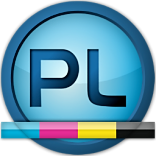 An Introduction to Photo Editing with PhotoLine
A comparison of PhotoLine's interpolation methods
Inspired by the image resizing page at Cambridge in Colour, I compared PhotoLine's interpolation methods using images of concentric circles and radial lines. When the first image is downsized, the circles outside the central part are not truly resolvable; detail there is artifact. The same applies to the lines in the central part of the second image. One would expect the detailed area of each image to have a round boundary; other than cubic spline, which isn't very useful, Mitchell-Netravali's are the roundest, even after adjusting the amount of sharpening, and it does in fact produce very smooth results.
The images were made with the generators below. They were then downsized to 20% and sharpened using unsharp masking, size 1.5, intensity 100%, threshold 0%. 
Be sure that you are not viewing the page with the images zoomed in or out.
| | | | | | | | |
| --- | --- | --- | --- | --- | --- | --- | --- |
| quick | bilinear | Lanczos 8 | Lanczos 3 | Catmull-Rom | bicubic | Mitchell-Netravali | cubic spline |
| | | | | | | | |
| | | | | | | | |
Zone plate generator
canvas size: 
 

750

px
scale factor: 
 

1.50

zone width at the edges: 
px
(right-click to save the image)
Rays generator
canvas size: 
 

750

px
number of rays: 
 

392

ray width at the edges: 
px
(right-click to save the image)
An Introduction to Photo Editing with PhotoLine | resizing/sharpening | russellcottrell.com/photo