John Cottrell and his descendants


John (1771-1855) and Thomas (1780-1840) Cottrell were 9 years apart in age, were both born in Virginia, and both moved to Greene County, Ohio. Their descendants Russell (me) and Bob Cottrell were a 25/25 marker match according to the Cottrell DNA project. So we conclude that John and Thomas were close relatives, perhaps even brothers, but we don't know much beyond that. Here is some information about John that Bob has collected. The search continues . . . .

The Cottrell family bible, presumably the oldest contemporary document for John and his children:

John Cottrell was born in the year of our lord 17 hundred and 71: February th7.

Images: Parents' Record | Deaths | Births

At one time, the date of John's death was not known because the Cottrell cemetery in Madison County, Indiana was desecrated by its owner and John's death date is broken off of his tombstone.

Children of John and Elizabeth Cottrell:

i. MARGARET COTTRELL, b. November 22, 1797.
ii. MARY COTTRELL, b. November 04, 1800; m. William Huston.
iii. ABRAHAM COTTRELL, b. June 11, 1803.
iv. ANNE COTTRELL, b. February 22, 1806.
v. WILLIAM M. COTTRELL, b. November 12, 1808.
vi. SARAH COTTRELL, b. November 12, 1812; m. John Ridenour.
vii. THOMAS I. COTTRELL, b. November 09, 1815.
viii. ELIZABETH COTTRELL, b. June 18, 1818.
ix. SAMUEL COTTRELL, b. September 09, 1821.


[One might speculate that February was a busy month for John and Elizabeth.]

Samuel Hardin, The Pioneer, 1895, p.126, concerning the history of Madison and Hancock Counties, Indiana:

ABRAHAM COTTRELL

Was another of the grand old men that found his way to the new county of Madison in the year 1823, and settled on both Fall and Lick creek, near the junction, and opened and operated a farm up to his death, April 29, 1889. He was born in Virginia, June 11, 1803. Married to Susan Hilderbrand, October 12, 1823, in Union county, Ind. She was born in Virginia, June 29, 1803. I am glad to write of this grand old pioneer and his family. He was indeed a grand man, a tipical pioneer, strong, hardy and honest. With sleeves rolled up he went to work to make a farm between the two creeks. He erected a cabin, whetted his ax, and soon the maul sounded up and down these streams, until the light of the sun was let in. Soon a better house was built, and neighbors came, and plenty soon followed, as a reward for frugality and hosesty. Mrs. Cottrell died November 22, 1862, and is buried at the Chapman cemetery, near the old home. He was an old-time Whig and then a Republican. No man ever lived in Madison county that loved his country better than Mr. Cottrell. He was a great reader, and well posted in the affairs of the Government. [Spelling per the original.
Some census records list Ohio as Abraham's place of birth.
Cemetery record says Susannah died in 1882; census records list her during 1870-1880.]

William Cottrell, 1808-1909, son of John Cottrell: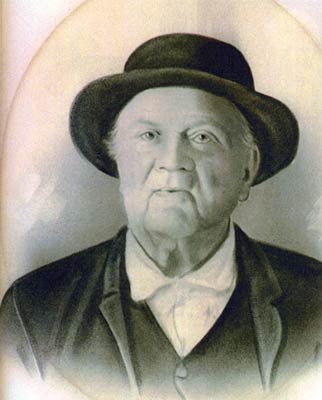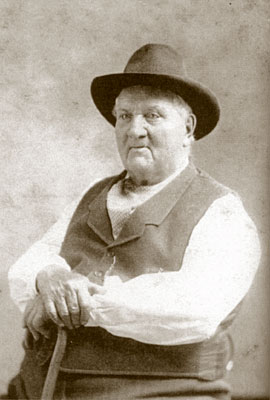 Last but not least, the wild man himself!
Many thanks for the information above, even if you do hate "web page guys" . . . .