The Hue/Saturation Channels .8bf Plugin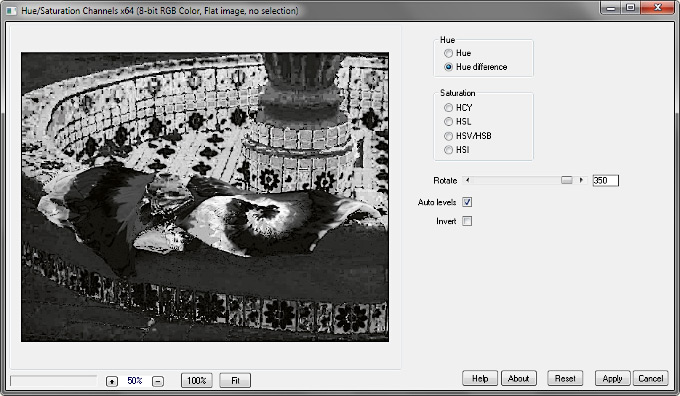 Hue/Saturation Channels is a utilitarian filter intended to assist in the selection or masking process.
• Unlike hue, which wraps around a starting point, hue difference prevents the splitting of closely-spaced hues into black and white.
• Rotate rotates the hues, and moves the point from which hue and saturation difference are calculated. This can help isolate certain hues, or areas of intermediate saturation.
• Auto levels is applied by default to maximize the value separation.
Works with 8- or 16-bit RGB images.
Download
Download the zipped file, then copy the plugin, the help file, and the demo registration key into your plugins folder. The filter will appear under "RC Filters."
version 1.2, 406
KB
, 64-bit applications.
version 1.2, 401
KB
, 32-bit applications, Windows 32 or 64 bit.
Download them all
, 6.5
MB
, 64-bit applications.
, 6.2
MB
, 64-bit applications.
Registration
The unregistered filters will save images up to 720 pixels in width and/or height. Please purchase a registration key for $9.00 which unlocks all of the RC Filters. Use either of the secure links below and I will e-mail you a text file (RCFKey.txt) to copy into your plugins folder. Be sure to use a valid e-mail address (I don't sell or give them away). I check my e-mail for payment notifications every morning, Pacific time, and other random times; if you do not receive a key within one day it means I am in the hospital. If you paid for any of the RC Filters before keys were used, email me and I will send you a key. The filters come with a demo key; if properly installed, the dialog will say "Demo key" when you click the About button. Questions . . . .

The filters, the help files, and the registration key all go into the same folder. It may help to make an RC Filters subfolder. Each filter has a link back to the plugin folder on the About dialog for easy access.